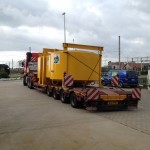 FLiDAR is an offshore meteorological station designed for marine renewable energy technologies such as offshore wind, wave, tidal etc.
Manora was awarded the contract to organize the transport (inclu the packaging and special overland transport) to the UK, for a new offshore project of the customer.
Another successfully completed project.