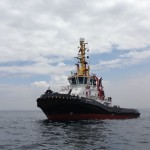 For one of our regular customers, Manora arranged the time charter of a tugboat, 36 meter, 70 ton BP, for a 3 year contract in Africa.
 The tug will mainly be used for port operations and STS off the West African coast. The vessel was delivered to the charterer on 17th November, and will start operations in the coming days.
Another successful contract for Manora in Africa!